A Brief History
Captain Richard Duncan's company was one of the eight line infantry companies that formed the muscular backbone of the original regiment when it was at full strength. The other two were the flank companies – one of Grenadiers and one of Light Infantry.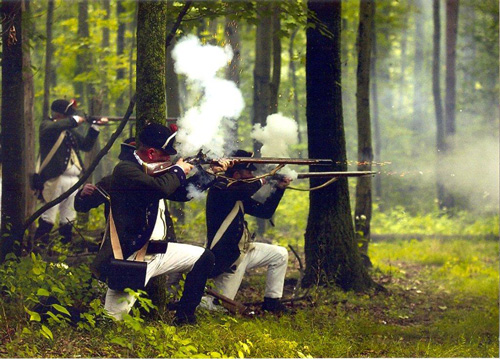 Companies were only formed when sufficient recruits were assembled and, when Duncan's got its start in June 1777, its captain had still not arrived and command was vested in 1st Lieutenant Richard Wilkinson, an Albany merchant and ship owner. Second-in-command was Ensign Edward Wall, who had been a schoolmaster in Johnstown before he entered the Indian trade.
When the Royal Yorkers went on their first expedition under the command of Brigadier St. Leger a month later, Duncan's company fielded twenty men, all ranks. During the advance from Oswego to Fort Stanwix, the regiment saw hard service, wrestling the expedition's supplies, ammunition and guns over the Oneida Carry to where the fort lay on the upper Mohawk River. St. Leger's small army was scarcely in position when a warning came that 800 Tryon County militiamen were marching to relieve the fort. Sir John Johnson, the expedition's second-in-command and KRR commander, was dispatched with his Light Company, German riflemen, Indian Department rangers and the bulk of the Six Nations' warriors to stop the militia's advance, which was accomplished in a classic ambush on the morning of August 6.
Many Royal Yorkers had earlier been in the county's militia and had relatives, friends and neighbours still serving, so the Oriskany ambush proved to be a startling introduction to the horrors of civil war. Likely some of Duncan's men took part in a brutal hand-to-hand action that afternoon which thoroughly thrashed the militia and ended their march.
Although the fort's garrison was now isolated from the lower valley, the expedition's artillery was unable to overcome Stanwix's defences and, when word of a much larger second relief column of rebel Regulars was received, St. Leger retreated to Oswego. From there, he took the majority of his white troops back down the St. Lawrence River and south on Lake Champlain to Ticonderoga with the intention of reinforcing Lieutenant-General Burgoyne's grand army.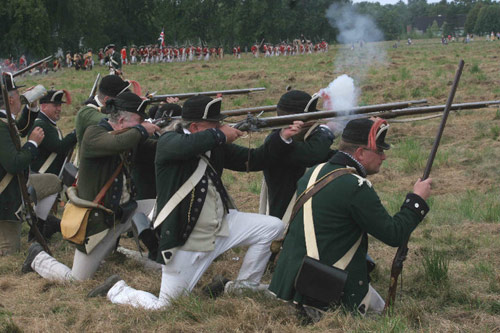 Richard Duncan was able to join the regiment at Ti on October 2 after escaping from the rebels with several recruits. Richard was English-born and from a prominent mercantile family which lived at Niskayuna, near Schenectady. Prior to entering the family business, he had served as an ensign and quartermaster in the 44th Regiment from 1758 to 1771. He was one of Sir John's carefully-chosen, original officers.
St. Leger's troops were unable to join Burgoyne before he capitulated on October 17. With harsh weather close at hand, the Yorkers joined with the garrison to destroy the fortifications and withdraw to Quebec on November 8.
Strangely, neither of the company's subaltern officers finished this campaign. Wilkinson resigned on September 23 to support his family, and Wall, who had been promoted to lieutenant on Wilkinson's departure, resigned on October 13, although both men were serving in the Six Nations' Indian Department in 1778. Despite these losses, the company finished the season at double its beginning strength. 1st Lieutenant Thomas Gumersall was transferred in from another line company and Ensign Austin Piety, who had been serving as St. Leger's Conductor of Artillery, also joined. Gumersall ended the war as senior captain of the 2nd battalion and Piety as the lieutenant of Duncan's.
In the fall of 1779, Duncan's Company contributed forty-two men to Sir John's abortive expedition to assist the Six Nations. The next year was the 1st battalion's highpoint of active campaigning. In May, Sir John led an expedition to Johnstown to relieve area residents who were suffering under severe rebel persecution and Duncan's company took part with forty-five all ranks. That fall, during Sir John's Schoharie and Mohawk Valleys' expedition, the company sent forty-two all ranks. On October 18, Captain Duncan commanded the wing of the expedition that destroyed the harvests, livestock and farms along the north shore of the Mohawk from Schoharie Creek to beyond Fonda. The next day, the regiment engaged in an intense line action at Klock's Field, during which Duncan was said to have played his part "with great gallantry and success." This engagement secured the expedition's safe withdrawal.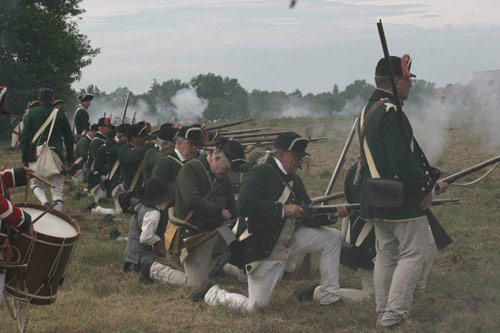 A 1st battalion Size Roll of January 1783 showed Duncan's Company's strength at sixty NCOs and private men. Thirty-six were American born; ten were Irish; six were Scots and eight were Foreign, likely German. Forty-seven of the men were 5'8″ or under and the balance, up to 5'11". Thirty-three had five years or more military service; the rest had two years or more, except for one fellow who had less than a year. Twenty-nine were 25 years of age or under; eight men were over 45. The core of the company, i.e. thirty-eight men, lay between 20 and 30 years-of-age. These statistics were typical for the 1st battalion's line companies, except for Angus McDonell's, which had a number of older men (ten 60 and over) and most likely was a training and garrison company.
In 1781, the 1st battalion was withdrawn from combat duties and replaced by the newly-formed 2nd battalion. For the rest of the war, the 1st battalion companies were employed in forwarding critical supplies to the Upper Posts; garrisoning and constructing fortifications in lower Quebec and supplying marines on the lakes and agents and scouts for the Secret Service. Duncan's was disbanded on December 23, 1783 and settled at Royal Township No.4 (Williamsburgh) by mid-1784.
The Recreated Company
The uniforms, accoutrements and arms for all KRR line companies were the same. Readers interested in the details of the regiment's clothing and arms' issues are referred to the "Articles" section of this website. About five years ago, American historian Jim Kochan advised us that our interpretation was incorrect and we have made many adjustments to come more in-line with his findings.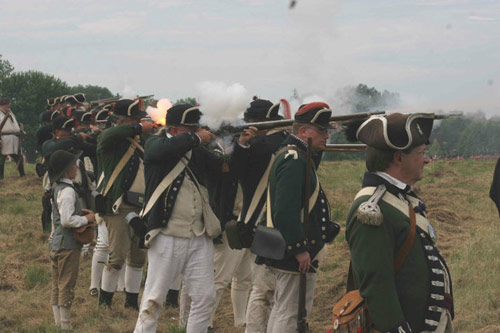 All companies of the recreated regiment now wear jackets rather than long coats and the majority of the men are equipped with a Stand of Arms composed of a 18-round Belly Box mounted on a black waistbelt with a sliding bayonet frog. Most members who use the Belly Box supplement their ammunition supply by carrying a ball bag with an internal wooden box and a non-functional powder horn; however, as Sir John Johnson purchased a number of cartridge pouches for his recruits, any member who wishes to continue to use one is permitted.
All Other Ranks wear a cap-hat similar to those illustrated in James Hunter's view of three British Regulars at Ticonderoga in 1777. Newly-made jackets are in the Light Infantry pattern with vertical pocket flaps, plain pewter buttons and buff-coloured turnbacks. New waistcoats are made to the 1771 Light Infantry pattern in buff wool with plain pewter buttons. Men may wear either white or check shirts.
Three types of trousers are worn. Members wearing shoes employ overalls with integral gaiters, or breeches and woollen leggings or black spatterdashes. Members wearing 'hi-low' boots wear 'straight-leg' trousers or breeches. This variety of small clothes and accessories is reasoned accurate, as men of the original regiment were issued with disparate items depending on their employment and would have returned to garrison with them.
Judging from its extensive employment on long range raids, the original KRR NY would have been a "light" regiment, similar to the British 24th, which was assigned to the Advance Brigade of Grenadiers and Lights during Burgoyne's expedition. Consequently, all companies of the recreated KRR are proficient in light infantry drills and tactics, as well as traditional line methods.
Duncan's Company is the largest in the recreated regiment; its predominantly Canadian membership is drawn from Tillsonburg in the west, to Morrisburg in the east and Ottawa in the north. American members hail from Michigan, New York and Virginia.
An Extended Line Volley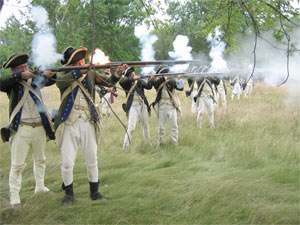 After advancing his section in light infantry extended order, Serjeant Lorenzen has the men deliver a volley into the opposing line. The pairs of "file partners" from the front and rear ranks are several paces from the next pair off to their left. Mastering the art of loading and firing reproduction muskets is one of the true joys of the hobby, as is forging the teamwork required to execute the 'plays' that make the regiment so competitive on the field. Learning these obsolete skills brings the modern Royal Yorkers into close spiritual contact with the men who fought for the Crown during the American rebellion. Recruits are carefully tutored in the drill, deportment and period battle tactics they will use with the regiment.